#26 Teamwork makes the Dream work – A Guide to Research Collaborations? 
Episode Host:
Jason Frank
Enjoy listening to us at your preferred podcast player.
Episode Article
Sbaity, E., Zahwe, M., Helou, V., Bahsoun, R., Hassan, Z., Abi Khalil, P., & Akl, E. A. (2023). Health Research Collaborations by Academic Entities: A Systematic Review. Academic Medicine, 98(10), 1220. https://doi.org/10.1097/ACM.0000000000005277
Wouldn't it be great to win that Nobel prize in educational rocketsurgery by publishing that great multi-institutional medical education study?! We review a paper on research collaborations looking for tips on how to do it right.
Background
During your career as an educator, have you had the experience of being in a multi-institutional research collaboration? How was it?
Perhaps many educators would like to be part of a great research collaboration. Wouldn't it be great to win that Nobel prize in educational rocketsurgery by publishing that great multi-institutional meded study?
There are obvious challenges: finding and recruiting collaborators, multiple Institutional Review Boards, logistics, time zones, funding…Not to mention the many human egos, diverse cultures, and quirks of personality. Research collaborations can be thrilling intellectual adventures or a nightmare of dysfunctional cooperation. Wouldn't it be useful to have a framework to discuss research collaborations to help ensure success?
Purpose
Enter Eman Sbaity et al, a team from the American University of Beirut Medical Centre. The authors set out to "review the literature on health research collaborations by academic entities and to identify the main phases, components, and concepts of these research collaborations." The authors posed that the COVID pandemic was perhaps the world's greatest research collaboration, yet pandemic research suffered endless examples of lack of collaboration (e.g. 235 registered separate trials of hydroxychloroquine, sigh).
Methods
The authors set out to conduct a systematic review to answer their question, guided by the PRSMA checklist. They used the research collaboration definition published by Katsouyanni (2008). The team searched 4 databases (Medline, Google Scholar, Web of Science, and ProQuest Dissertations) from inception to March 2022(!) and included papers that discuss health research collaboration. They describe duplicate screening, calibration, selection, and duplicate full-texts review. They used an extraction form and calibrated. They recorded collaboration data on: setting, type of collaboration, multidisciplinarity, countries, funding, and collaboration concepts. No critical appraisal. They conducted a thematic analysis of the descriptions of the collaborations.
Results/Findings
7846 papers were identified initially, with 59 ultimately included. 55 were case studies of a single project. 45 were multidisciplinary. Most were from the US and Europe.
The authors identified 4 "phases of collaboration" after reviewing the available papers: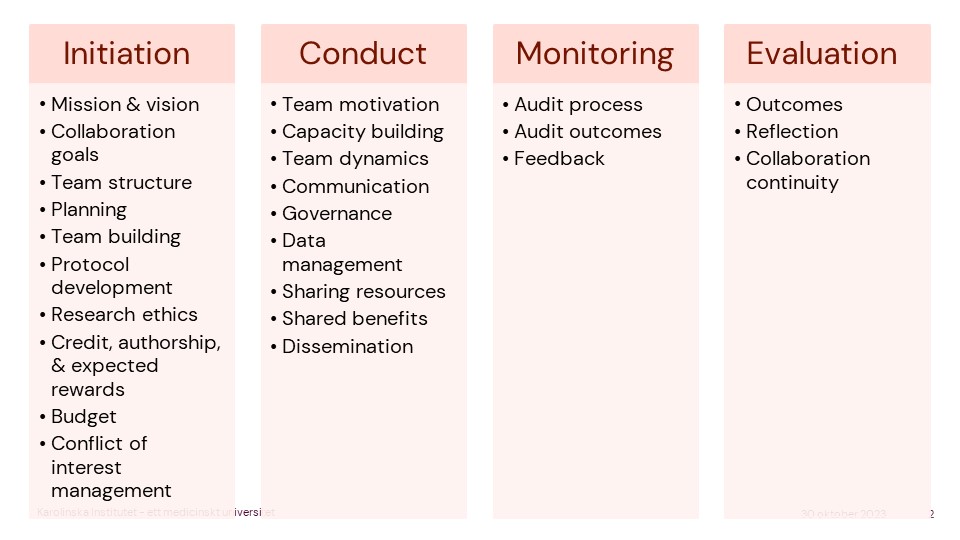 Success factors included:
Clearly assigned roles, tasks
Adequate timeline
Necessary infrastructure
Good Communication
External funding
Collaborative mindset
Fair distribution of workload, resources, and rewards
Commitment to tasks
Comments
The authors concluded that there is evidence that researchers in general have difficulty identifying and adopting good practices for research collaborations. Their review provides a framework of characteristics and success factors.
A systematic literature review lives and dies by the narrowness of the question, because you trying to answer a very narrow question using the data that's available to answer that narrow question as a data set. Reading the study question i first thought it was a scoping review when you are trying to get a breadth of understanding

Lara Varpio on the research question:
Suggested resource in Litterature review
Literature Reviews Explained (LITR-EX) Evidence-Informed Practical Guides to Conducting Literature Reviews in (but not limited to) Health Professions Education